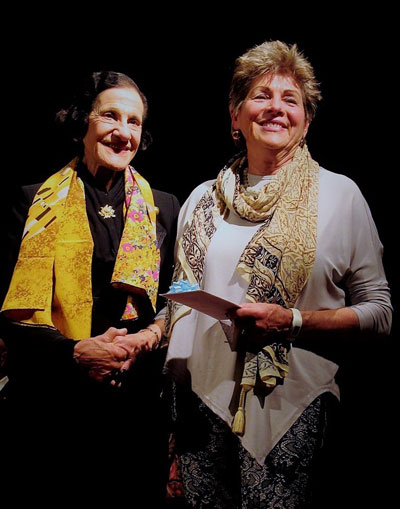 Sandra with Professor the Honourable Dame Marie Bashir AD,CVO at Camden Art Prize Presentation - First Prize, Works on Paper

Viewpoint Online Gallery features the artwork of Sandra Hendy FRAS, AWI - an Australian Artist specialising in watercolour and mixed media.
"As an artist my forte has been in the areas of colour and design. Inner city architecture has attracted my attention and I have developed this to a contemporary style and incorporated other water based media. These paintings have had a high drawing content which I have endeavoured to produce in a loose style.
Conversely I have also concentrated on landscapes of the Australian outback with practically no drawing content but which give the opportunity of displaying well the nuances of watercolour.
In concentrating primarily on these two very different subjects I have been able to explore and develop new ideas within this framework. This has enabled my own signature style of painting to be birthed and given opportunity for innumerable ideas for painting what first may appear ordinary subject matter. "
About Sandra
Curriculum Vitae
1980 became an elected member of Ku-ring-gai Art Society acting as their selection convener.
1981 became an elected member of the Royal Art Society of NSW and elevated to first an Associate and then a Fellow in 1989.
1990 invited to become a member of the Australian Watercolour Institute.
1991 exhibited with the Institute in a panel of watercolourists at the Federation of Canadian Artists.
1994 exhibited at the first International Watercolour Biennale in Mexico at the Muses De La Acuarela.
1997 chosen to be included in the World Watercolour Book The Best of Watercolour 2
1999 featured in Australian Artist Magazine in the series entitled 'Master Painters of Australia'.
Included in an Exhibition of Artists of the South Coast at the Forest Gallery, Durras in 2000 and in 2003 exhibited in the Victorian Artists' Society Invitation Exhibition.

January 2009 exhibited in a Post Modernism Exhibition at the Bega Valley Regional Gallery, exhibiting Scrambled Hillside
January 2009 selected for the Shanghai Zhujiajiao International Watercolour Biennial Exhibition at the Shanghai World Expo. Paintings exhibited were Industrial Power and Rock Design
Basil Sellers Art Prize ($15000) - Finalist 2004, 2006, 2010, 2012 and 2016; Highly Commended 2008.
2012 accepted for the Taiwan-Australia Watercolour Exhibition at the Taichung City Cultural Centre, exhibiting Marble Bar Countryside
2013 Selected exhibitor and Excellence Prize Winner at the Shenzhen International Watercolour Biennial (China) with the painting Oriental Jumble
2013 Finalist, Gosford Art Prize
2014 Oriental Jumble included in Shenzhen's National Travelling Exhibition in eight locations in China and purchased by Luohu Art Museum, Guangdong, China
2014 Exhibitor in the Australian Watercolour Institute Exhibition held at the Shanghai Quanhua Watercolour Art Gallery, Zhujiajiao, Shanghai, China
2014 Invited artist to the Qingdao International Watercolour Biennial Exhibition with Asian City Lights being purchased for permanent collection
2014 Finalist in the World Wide Watercolour Competition conducted by L'Art de L'Aquarelle in France
Painting Awards
Adelong Art Award
Highly Commended
Watercolour
1985
Bankstown Art Award
2nd Prize
Watercolour
1983
Basil Sellers Art Prize NSW ($15000)
Finalist
2016
2nd Prize
People's Choice
2012
view
Finalist
2004 2006 2010
Highly Commended
2008
view
Berrima Art Award
Best Painting
1985
Bega Regional Gallery
1st Prize
Watercolour
2004
view
Blackheath Rhododendron Festival
1st Prize
Contemporary
2018
view
1st Prize
Watercolour
2017
view
1st Prize
Watercolour
2014
view
1st Prize
Watercolour
2013
view
1st Prize
Drawing
2013
view
1st Prize
Contemporary
2012
2nd Prize
Miniatures
2017
view
2nd Prize
Mixed Media
2014
view
Highly Commended
Contemporary
2013
view
Boggabri Art Prize
Highly Commended
Watercolour & Drawing
1984
Camden Art Prize
1st Prize
Works on Paper
2017
view
1st Prize
Watercolour
2013
view
Commended
2013
view
Cowra Regional Gallery Open Art Award
1st Prize
Watercolour
1983
Highly Commended
Watercolour
1985 1986
Currabubula Open Art Award
Best Painting in Exhibition
1991
1st Prize
Watercolour
2000 2007
1st Prize
Mixed Media
2007 2014
view
2nd Prize
Watercolour
1986
2nd Prize
Miniatures
2013
view
Highly Commended
Watercolour
1984
Highly Commended
Contemporary
2013
view
Commended
Drawing
1985
Drummoyne Open Art Award
1st Prize
Watercolour
1982 1983
Eurobodalla River of Art Prize
Highly Commended
2013
view
Gloucester Open Art Award
1st Prize
Watercolour
1984
Gosford Art Prize
Finalist
2018
view
Finalist
2013
view
Goulburn and District Art Prize
1st Prize - Mixed Media & Best painting in Exhibition (purchased)
2017
view
Best painting in Exhibition (purchased)
2014
view
2nd Prize
Watercolour
2014
view
Gunnedah Open Art Award
2nd Prize
Watercolour
1984
Henry Lawson Festival Open Art Award
1st Prize
Contemporary
2018
view
1st Prize
Pastel
2012
view
1st Prize
Small Painting
2012
view
1st Prize
Contemporary
2011
view
1st Prize
Watercolour
2007
view
Highly Commended
Contemporary
2013
view
Highly Commended
Contemporary
2012
view
Hunters Hill Art Prize (Joubert Award)
Highly Commended
Watercolour
Kiama Open Art Award
2nd Prize
Watercolour
2014
1st Prize
Watercolour
2013
view
1st Prize
Contemporary
2012
view
1st Prize
Still Life
2012
view
2nd Prize
Contemporary
2013
view
Kogarah Open Art Award
2nd Prize
Watercolour
1985
Highly Commended
Watercolour
1983
Ku-ring-gai Art Award
1st Prize
Watercolour
1979 1985
2nd Prize
Watercolour
1982 1989 1990
Commended
1980 1981 1983 1984
Macquarie Towns Open Art Award
Highly Commended
Watercolour
Merriwa Art Award
Highly Commended
Watercolour
1990
Montague Art Award
Best Painting in Exhibition
2001 2008
1st Prize
Watercolour
1998 1999 2006 2008 2014
view
1st Prize
Mixed Media
2007 2008 2014
view
1st Prize
Drawing
2013
view
1st Prize
Pastel
2013
view
Commended
Mixed Media
2013
view
Nundle Art Award
1st Prize
Watercolour
2017
view
1st Prize
Watercolour
1984
Commended
Contemporary
2017
view
Port Macquarie Open Art Award
1st Prize
Watercolour
1989 1992 1999
2nd Prize
Watercolour
1982
Highly Commended
Watercolour
1984
Merit Award
1985
Port Stephens Art Prize
Commended
Contemporary
2013
view
Quirindi Art Award
2nd Prize
Drawing
1985
Ryde Municipal Art Award
1st Prize
Watercolour
1981
1st Prize
Small Painting
1983
Highly Commended
Watercolour
1983 1984 1990
Scone Art Prize
Highly Commended
Watercolour
1985
Shenzhen Watercolour Biennial, China
Excellence Award
2013
view
Shoalhaven Open Art Award
Best Painting (purchased by Council)
1984
Highly Commended
2012
view
Singleton Open Art Award
2nd Prize
Drawing
2012
view
Packer's Award
2013
view
2nd Prize
Watercolour
2017
view
Highly Commended
Contemporary
2017
view
Southern Cross Open Art Award
Commended
Watercolour
1985
Sydney Royal Easter Show
Commended
Watercolour
1985
Tamworth Open Art Award
Best Painting in Exhibition (purchased)
1990
1st Prize
Watercolour
1984
Commended
Watercolour
1990
Wattle Time Art Exhibition Cootamundra
1st Prize (purchased)
Mixed Media
2014
view
1st Prize (purchased)
Rural Section
2014
view
1st Prize
Drawing Section
2014
view
Wingham Art Prize
Highly Commended
Watercolour
1985
Exhibitions and Events
| | | |
| --- | --- | --- |
| 1983 | Three artist exhibition | Royal Art Society of NSW |
| 1989 | Solo exhibition | Home Gallery, St Ives, Sydney NSW |
| 1992 | Two artist exhibition | Royal Art Society of NSW |
| 1996 | Six artist exhibition | Cherrybrook Gallery, Cherrybrook NSW |
| 2000 | Nine artists of the South Coast exhibition | Forest Gallery, Durras NSW |
| 2003 | Included in Victorian Artists' Society Invitation Exhibition | Melbourne |
| 2006 | Six water-colourists exhibition | Royal Art Society of NSW |
| 2008 | Two artist exhibition | Mogo Gallery, Mogo NSW |
| 2009 | Included in SEMAG exhibition | Mechanic's Institute, Moruya NSW |
| 2009 | Six artist exhibition | Bodalla Gallery, Bodalla NSW |
| 2009 | Three artist exhibition | Aarwun Gallery, Canberra |
| 2010 | Three artist exhibition | Aarwun Gallery, Canberra |
| 2010 | Two artist exhibition | Ivy Hill Gallery, Wapengo NSW |
| 2012 | Solo exhibition | Annabel Wallace Gallery, Young NSW |
| 2013 | Six artist exhibition | Somewhere Landscapes/Annabel Wallace Gallery, Wagga Wagga NSW |
| 2014 | One of 100 international Artists included in travelling exhibition in China | Eight major Chinese galleries |
| 2014 | AWI exhibition | Shanghai Quanhua Watercolour Art Gallery, Zhujiajiao, Shanghai and Shenzhen |
Teaching
Conducted watercolour classes for 20 years in Sydney and continued for 5 years on the NSW south coast
Held painting workshops and demonstrations for 30 years, for both Sydney and NSW Art Societies
Watercolour Teacher with Celebrity Cruises – March 2013
Two day watercolour workshop at Annabel Wallace Gallery - 2013
Bibliography
Max Germaine - Artists and Galleries of Australia 1990
World Watercolour Book - Best of Watercolour Book 2 - Rockport Publishers, Massachusetts 1997
Art of the South East Resource Book and Diary - Published 2007, Linda Lord
Australian Watercolour Institute 75th Anniversary Edition 1923-1998, published by Beagle Press
Australian Watercolour Institute Book 2006 - Published by Phillip Matthews
The Inaugural Shanghai Zhujiajiao International Watercolour Biennial Exhibition Album of Exhibits 2010
Book of Exhibits - Tradition and Transformation - Taiwan Australia Exhibition 2012
Book of Exhibits - Shenzhen Watercolour Biennial, China 2013-2014
Ku-ring-gai Art Society 2015 Golden Jubilee Book, published by KAS
'Across the Waters' - China/Australia illustrated exhibition catalogue, published by Quanhua Watercolour Art Gallery, Shanghai 2014
Book of Exhibits - Qingdao Art Museum, Qingdao Province, China
Concourse Mondial de L'Aquarelle, World Wide Competition - Catalogue Book 2014 Printed in France, Megatop October 2014, published by Diverti Editions
© Sandra Hendy. Website design by John Garrard